Search by tag «delicious»

Entries found: 2

Delicious API is broken today Jan 30, 2013. It looks like the "New Delicious" update messed up with ability to post links through the API.
There are many reports on Twitter confirming that outage is general:
We are monitoring the situation, but can't do anything about that at this point.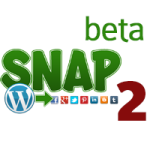 New Beta Version has been released: 2.0.5
The release fixed the bug with Pinterest causing "Cannot access empty property" error and this version also has experimental support for Delicious.com
Download it here: http://www.nextscripts.com/social-networks-auto-poster-beta
.