FAQ
Something is not working? Please see the Technical Problems Troubleshooting FAQ
Main Question
Question: Is it a one time payment or yearly subscription?
Answer:
It depends on what you need. There are two products included:
– "SNAP Pro WordPress Plugin" plugin itself is one time purchase. "SNAP Pro WordPress Plugin" will give you an ability to post to as many accounts of the same network type as you like and some premium features like random reposting and delayed autoposts. Lifetime plugin upgrades are also included with one time fee.
– "SNAP Premium API Libraries" is a yearly subscription. Those libraries will give you an ability to post to networks without native API like Google+, Pinterest, YouTube, Flipboard, LinkedIn Company pages and groups, Reddit, etc.. Those libraries require constant maintenance and to keep them up to date we need a subscription.
Right now we have 2 special offers.
1. You can subscribe to "SNAP Premium API Libraries" ($49.95/year) and get "SNAP Pro WordPress Plugin" for free.
2. You can buy "SNAP Pro WordPress Plugin" for $49.95 (One time payment) and get one year of "SNAP Premium API Libraries" for free.
Basically with both options, right now for paying $49.95 you will get exactly the same thing – "Plugin + API libraries". It's just with one time payment option (offer #2) API will stop working after one year. You still be able to enjoy SNAP PRO Plugin for WordPress and all it's features for as long as you like.
You choose what you need for regular WordPress here:
https://www.nextscripts.com/snap-pro-wordpress-plugin-social-networks-auto-poster/
You choose what you need for WordPress Multisite Network here (It's just $99 more):
http://www.nextscripts.com/social-networks-auto-poster-pro-for-wpmu/
"Is it safe to use?" question
Question: Is it safe to use? Will my social networks accounts be suspended if I autopost? Is it some kind of Blackhat SEO tool? Can I use it for mass postings?
Answer:
SNAP is not a spam tool. SNAP is not a Blackhat SEO tool. SNAP is not a tool for bypassing any rules of the site where you are autoposting. You need to follow all terms and guidelines of any site or social network you are working with.
None of the networks we support suspend accounts simply based on the fact that you are autoposting there. Do not post spam or content that is not allowed, do not post more posts then allowed, do not abuse the network in any other way and it will be fine.
If you account got suspended for abuse/spam or any other reasons, please contact the social network directly, we can't explain why that happened.
Privacy and security
Question:Can you see what I am posting? Do you share my info with anyone? You are asking for Google+ password. Where it's kept? Is it secured? Do you have access to it? I got email from Google saying "Your account was accessed from some remote location", was that you?
Answer:
1. Privacy. The main difference between SNAP and other systems is that we are not acting as a middle man between your site and you accounts. All our scripts are installed on your server and your server makes posts to your networks directly. When you make a post your server logins to your account on your behalf and makes a post. We are not involved in that anyhow. None of your information including logins, passwords, and post content is coming to us. We don't know your info and we don't want to know it. It's the best possible solution to any privacy concerns.
2. Security
Your password is encrypted and stored in your WP database. It's as secured as your server. So please do all possible measures to protect it. As we already explained, we don't have any kind of access to your password and we don't want to have it. The location in the email that your account was accessed from is a location of your server.
General FAQ
1. Question: What is the difference between "Free" and "Pro" versions?
Answer: Free plugin is limited to one account per each type of connected networks. In other words you can add 1 Facebook, AND 1 Twitter AND 1 LinkedIn AND 1 etc … accounts in the "Free" version. This is enough for about 95% of users.
Pro plugin is NOT limited in number of accounts per each type of connected networks. You can add 10 (or 100) Facebook, AND 15 Twitter AND 5 LinkedIn AND 25 etc … accounts in the "Pro" version.
Please see more here: Compare Editions
2. Question: What networks in your auto-poster plugin are free and what are not? Why some networks are not free?
Answer:
It really depends on the availability of the free API from the Social Network itself. Facebook, Twitter, Tumblr, LinkedIn and others have a very good and powerful free APIs that could be used for publishing posts. Those networks are free for you. Some networks like Google+, Instagram and Pinterest don't have API or have a read-only API that doesn't allow to make posts. We had to create and maintain our own API libraries for such networks and those libraries are available separately for some fee.
Some networks like Blogger and LinkedIn have free built-in APIs, but those APIs are limited in some ways. In such cases, plugin can use free API to the full extent of the network imposed limitation. We also have our own API libraries that could be used to avoid those limits and problems. For example currently LinkedIn API allows you to post only to your own profile, if you have company page you can't post there. NextsScript's API Library for LinkedIn can post to company pages as well
3. Question: Does the free plugin support WordPress Multisite (ex-WPMU)?
Answer: Free plugin does not support WordPress Multisite. There is a separate "Pro for WPMU" plugin available for WordPress Multisite.
Please see more here: Compare Editions
4. Question: I already have "Pro", and I would like to upgrade to "Pro for WPMU". Do I really need to pay the full price? Can I just pay the difference?
Answer:
Yes, of course, you can pay just the price difference. You can do it here:
Pro to Pro for WordPress Multisite Upgrade
. Please enter the email that you used for the original order and you will get the upgrade links.
5. Question: I am running a number of blogs and I'd like to use your "Pro" plugin on them. Do I need to buy "Pro" license for each one of them?
Answer: Our licenses are issued on "Per User" basis. It means you can use one license on all your sites, but you can't give it to other people. You can use Plugin and API libraries on all your sites/blogs, the only requirement is that all those sites/blogs must be yours. You can't re-sell or re-distribute the "Pro" Plugin and API libraries or websites with per-installed "Pro" Plugin and API libraries, neither you can't install plugin and API libraries for your clients.
If you are interested in re-selling plugin or would like to install it for your clients you can look at our developers/resell packages
6. Question: Can I use it just for Twitter (Facebook, LinkedIn, Delicious) or it requires all networks to be set?
Answer: Sure you can use it for just one or two networks.
7. Question: Can it post to Facebook and Google+ pages? Not to profiles, but to pages. Also what about groups and communities?
Answer: Yes, it can. Specify page IDs in the settings, and it will post to pages. It will also work with groups and communities.
8. Question: Why it's not so easy to setup? Why do I need all those apps? There are other plugins (Jetpack Publicize, Linksalpha Network Publisher, etc ) that could do it much easier.
Answer: There is a major difference between SNAP and other auto-posting plugins. Plugin MUST use an "App" to make posts. if plugin doesn't ask you to create your own app, it will use an app set by plugin author. Yes, it's easier to setup but it means that with every post you make you will promote that plugin author to all your friends and followers. All those posts will be marked as "Shared via WordPress.com" or "posted by Linksalpha". SNAP gives you an ability to setup your own apps and promote only yourself. We have a very detailed and illustrated setup instructions and our support can help you with that. We believe that it's well worth to spend your time by setting it up, instead of doing free advertisement for somebody else.
9. Question: Will the Google+ autoposter work from Germany? Are you using SMS Gateway? I saw another solution, that could work only in US and India, but people were complaining that it wasn't working even in those countries.
Answer: We don't use SMS or any other gateways. Our solution simulates human behavior. It logs to your Google+ account and does exactly the same thing as you would do to share your post manually from your browser. This way it can work from anywhere.
10. Question: Will your plugin post scheduled WordPress posts to Facebook? I have certain posts to my site that I want to time for first thing in the morning, and also publish to my Facebook page at the same time. Is that a feature your plugin supports? Also, does your plugin support posts from iOS/Android App?
Answer: Plugin supports all kinds and types of publishing including scheduled posts and posts made from iOS/Android Apps.
Our plugin posts to all configured social networks at the time post goes live. Technically speaking our plugin is hooked to the event of changing post status from whatever to "Published". This event is triggered when you hit "Publish" button, when you post on your site from email, when you publish post from your iOS/Android Device, when external plugin correctly published new post, and when scheduled post becomes live.
11. Question: Does plugin support custom post types? Can I exclude custom post type from auto-posting?
Answer: Plugin supports custom post types since version 1.9.3. It has the ability include/exclude custom post types from auto-posting.
Please go to the Settings->Social Networks Auto Poster->Other Settings->Include/Exclude Custom Post Types and select only the custom post types you need or select "None" if you need only regular posts.
12. Question: How and where can I change the default text that posted to my networks "New post has been published on …"?
Answer: You can change the default text in the plugin settings for each network.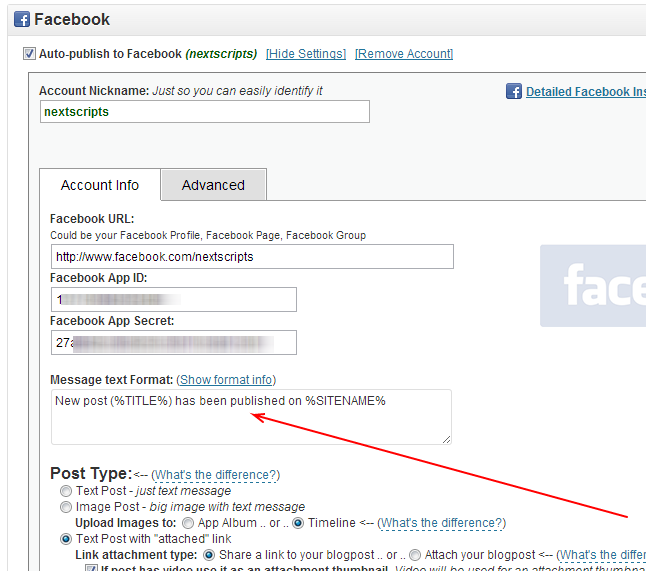 You can also adjust this text for each post individually.

Please see here for more info about formatting tags: www.nextscripts.com/snap-features/message-formatting-tags
13. Question: Can I use one Facebook app for all my Facebook accounts? Can I use one Facebook app on all my domains? What about Twitter?
Answer: Facebook issues it's applications on "by domain" basis. it means that you can use one application for posting to all Facebook accounts from one website, but you will need a second application to post from another website. it doesn't matter what Facebook account created the app. Plugin will post to the page defined in the "Facebook URL" field as the person who authorized an app.
As an opposite, Twitter issues it's application on "by account" basis. It means that you need a different application for each twitter account, but you can use the same application from different websites.
14. Question: PayPal payment buttons are not working! How can I buy it?
15. Question: How can I get the Invoice (Receipt/Bill/Tax Document)?
Answer: Invoice for each payment is available on "My Page" (http://www.nextscripts.com/mypage/).
If you need to change your name and/or address, please use [Edit My Info] link button.
If you need VAT printed on your invoice, just add it at the end of the address.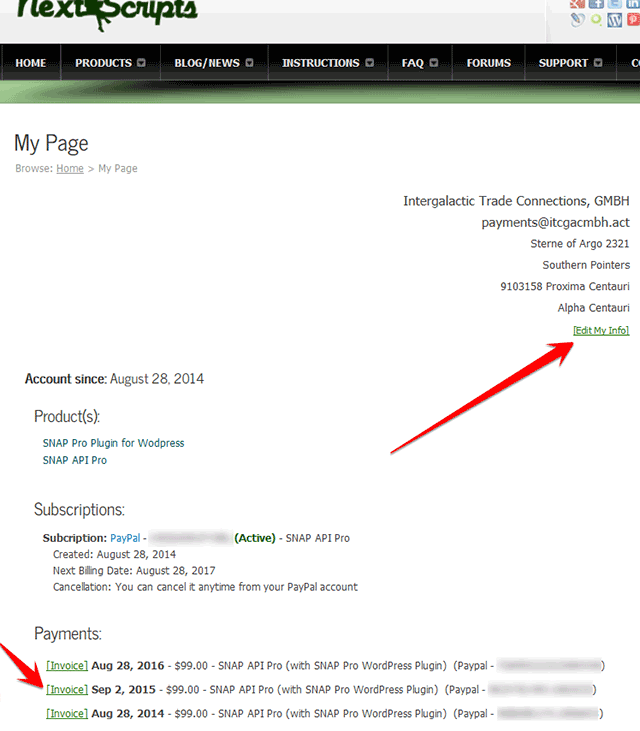 16. Question: How can I cancel my subscription?
Answer: PayPal subscription can be cancelled right from your PayPal account. Please login to paypal.com and cancel it from there.
Credit Card subscriptions can be canceled from your account on "http://www.nextscripts.com/mypage/". Just click "Request Cancellation" in the list of your subscriptions.
Please note: If you do not wish to renew your subscription for another year, please cancel it BEFORE the next scheduled automatic payment. As per our policy, we won't be able to issue any refunds.
Please see about the subscription terms here
Last Question
Question: I just placed an order, but I have no access to the PayPal email at the moment. Can you change the email to MegaHacker1234567890@gmail.com? Please do this ASAP!!! IT'S VERY URGENT!!!!
Answer: We are really sorry, but we can't. At least we can't do it right away. Here is why:
Every single day we are getting 2-3 orders from stolen/hacked PayPal accounts. People who place those orders usually have an access to the PayPal, but can't access email associated with stolen/hacked PayPal account.
The next step for them is to contact support with some story why they can't access the PayPal email and ask us to send the product to another email address.
The "Not Authorized" claim or credit card chargeback from the real PayPal owner is coming shortly after that.
We are not saying that this is your case, but we need to confirm that you are the real owner of the PayPal account before we send the product to the different email.
… or better yet …
Please be sure that you have an access to your PayPal email before placing an order.
Thank you