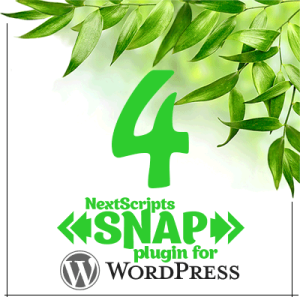 Upcoming Version 4 Features: New plugin place, New look for post metabox, Query, New Facebook configuration
Plugin interface Location
Plugin outgrew it's old place under the settings menu. SNAP is now located in the left menu column.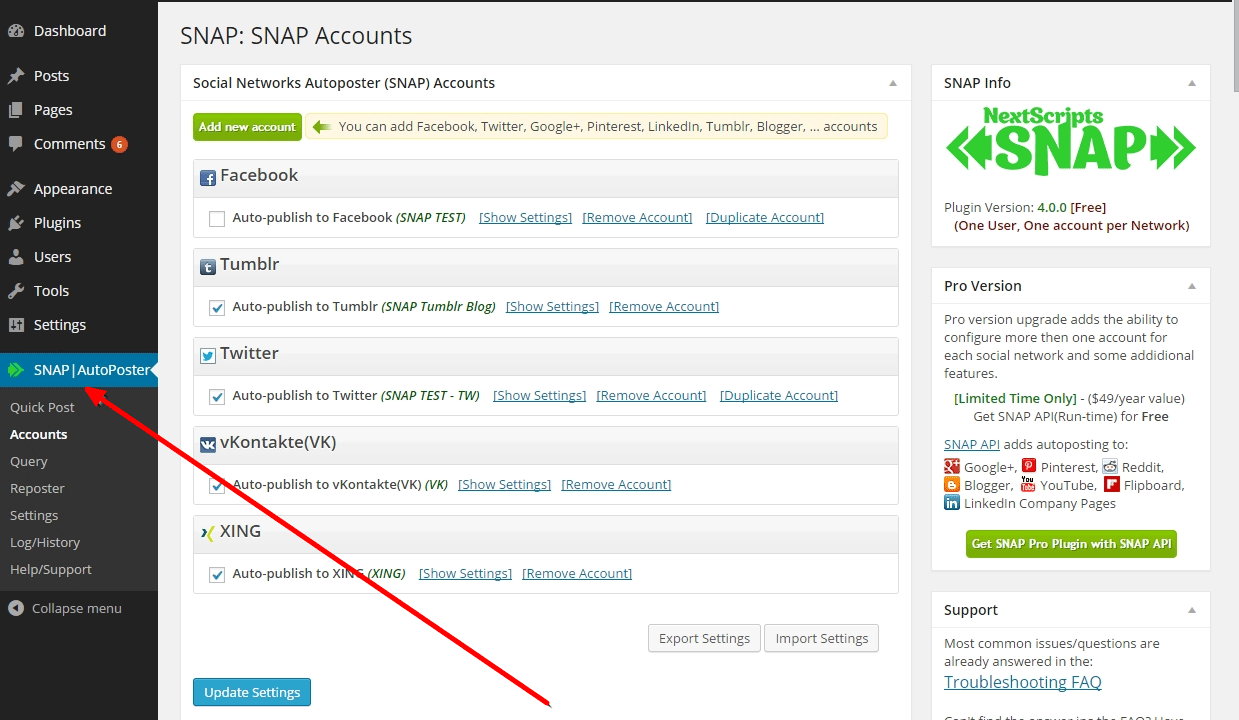 Metabox
Settings for unchecked networks are now collapsed in the post metabox.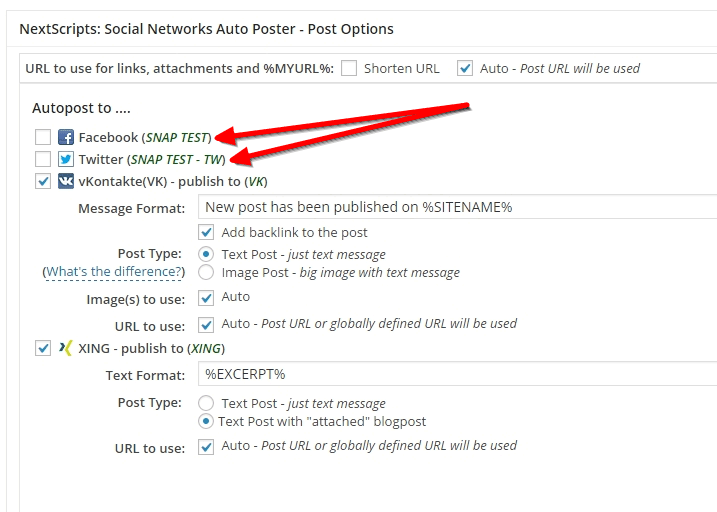 New Facebook Configuration interface
There is no more "Facebook URL" field. Once authorized plugin will read all available profiles, pages and groups and let you to choose one.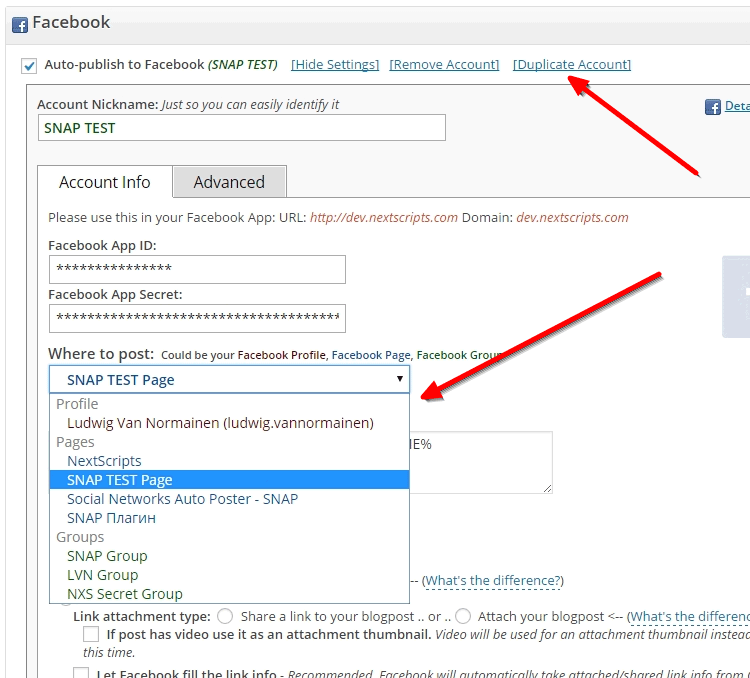 There is also new "[Duplicate Account]" button that lets you easily setup many pages or groups. Just click "[Duplicate Account]" and select another page or group from the list.
Query
New plugin section – Query. It shows all scheduled posts, autoposts and reposts. It also has an ability to cancel scheduled post or perform it "Right now".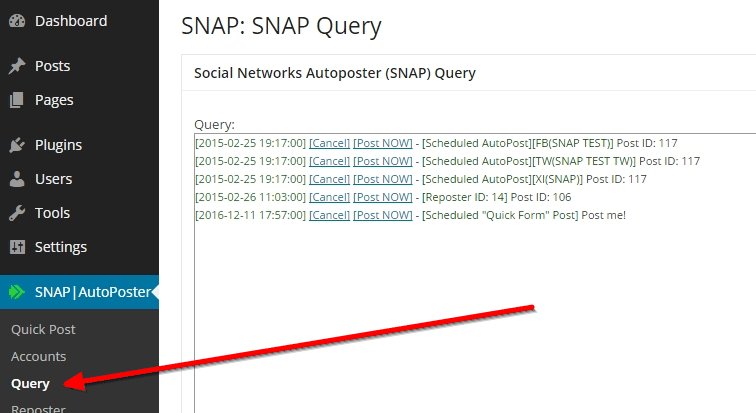 PS: Please do not ask for a release date. We don't have any specific release date set yet. As soon as we make a decision on a date we will publish it right away.
SNAP V4 is not just some improvements, it's almost 100% rewritten. We need to make sure it's done right. All we can say right now, that beta version should come out in several weeks, and final release date will depend on beta testing. Beta testing will be public and we will announce availability of the beta release here in this blog and of course it will be autoposted to all our social accounts. So follow us anywhere you like.
Comments
Trackbacks
About post
28
0
need beta testers for 4?

Yes we do. We will announce beta testing very soon.

version 4 is coming out soon?
When I could buy it?

Please look at the end of the post. :-)

Ops, sorry.
ok ok. Just saw the another post:

"Please see the update in the post"

Will Google+ and Pinterest be included in the free edition of version 4?

Why would they?

Google+ and Pinterest be included in the free edition when they open their APIs for general use. It has nothing to do with Version 4.

Really excited for this new release, please make sure to optimize it to lower cpu resource usage for us on shared hosting.

if i buy version 3 will i get free upgrade to version 4?

Yes, you will. All future upgrades are included.

Hi, I would like to be a beta tester of version 4.0.
I have bought already the version 3.4.12 and would like to start with the beta.

We will announce the public beta on our site.

Suggestion for V4 -- hooks to programmatically allow changes to the posting / reposting of a post to the networks.

Use case: I have writers assign a priority to posts (1-10) -- posts under 5 don't show up on the front page of the site. I'd also like to have these not get posted to social networks.

Use case: I'd like high priority items only to be reposted at a set interval after initial post.

How do you assign that priority? I don't think WordPress has such feature.

Hello i buyed plugin didnt have problem with setup but i want to know when there will be update to v4 will it be updated without problems or we will need to put like new instance of a plugin as it is completly rewriten and set up every scocial network one more time ?

Thanks for the question. V4 will pick up all networks and almost all settings from V3. "Almost" means it won't pick up the Re-poster settings. Re-poster will require a new setup.

Another suggestion for V4 - Please add the option to use "spin syntax" while manual posting to social networks (currently in "New Post To Social Networks" Tab).

At the moment its only supported while syndicating the posts from our blog.

Thanks

I recomend to put the option drag and drop in any social network so we will have everything in a specific order. Example: I have added in a site 400 facebook profiles/pages/groups. Many of these belong to the same category but are mixed up in the order. I would like to have the option to change their order with a drag and drop way. Is it possible to see that in version 4?
I believe that this is something that many of us need.

That won't be in version 4, simply because this will delay it's release for several more weeks and it's already delayed enough. We might consider this for future versions.

Possible to get an update on version 4? And what the timeline looks like?

All updates are free for SNAP. We will announce availability of the V4 beta soon.

Yeah I am a paid user waiting for V4. Just trying to determine a few things. Does "soon" mean, 1 week, 2 weeks, 2 months? etc.

Brilliant plugin!
Can't wait for update =)

Any date yet for the new version? Can't wait as the autoposting feature is really missing.

4 months, still no version4.
Are you guys alive?

Yes, we are. It will be released when it's ready. We already did it "fast" with V3. We need to to it "right", not "fast" this time.

Hello. Many of us are still waiting for some news, your last comment was 6 months ago. Do you have any, even very vague, idea of the release date?
Thanks.