Version 3.0.6 and auto re-posting problem/fix.
We would like to clear some confusion around "broken" auto-reposting in versions later then 3.0.5
Each post has a setting  that you can use to Include or Exclude this particular post to be auto-reposted to this particular network.

Plugin versions before 3.0.6 had a bug that was allowing some configurations to completely ignore this setting and just auto-repost everything.  Some people didn't even notice this setting, as their posts were successfully auto-reposted even if they were not included. Version 3.0.6 came with a fix and not included posts are not auto-reposted anymore.  The downside of this fix is the fact that for some people it looks like auto-reposting that was working before has now stopped.
The symptoms of the problem is automatically unchecked " Repost existing posts every …" checkbox and log entries like [RE-Posted – End of the Query]
All posts could be set to be "Included in auto-reposting". You can do it from "Advanced settings" tab for each network.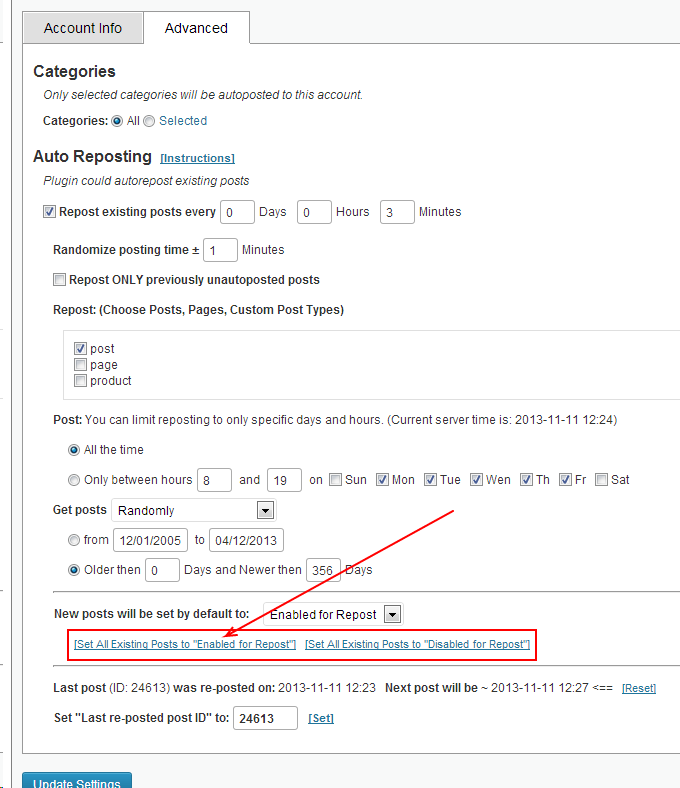 There is another thing that could make this problem even worth for some configurations. The source of the bug was actually auto-reposter itself, it was the fact that this "Include" setting wasn't saved correctly, so some posts that were actually had this checkbox checked were still excluded.
Here is how to make "broken" auto-reposting working again
1. [Important] Update to the version 3.0.7 or later.
2. Go to the plugin settings, choose the network for auto-preposting, switch to Advanced Tab and click [Set All Existing Posts to "Enabled for Repost"] link. Wait till it finishes, it could take some time.
3. Check the checkbox "Repost existing posts every …"
4. Click "Update Settings"