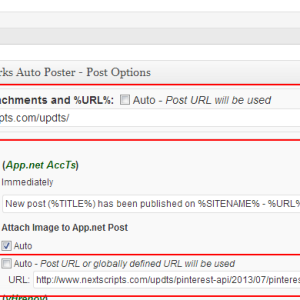 [Version 3] Some News
We have some news.
1. Version 3 Beta 4 wasn't as bad as Beta 3 in terms of new bugs and problems. Beta 5 will be available on Monday to all beta testers and then most probably Beta 6 will be public.
2. New Version 3 feature.
Due to many requests we have added the ability to share some different URL with autoposts.
You will be able to setup custom URL for all networks and for each one individually.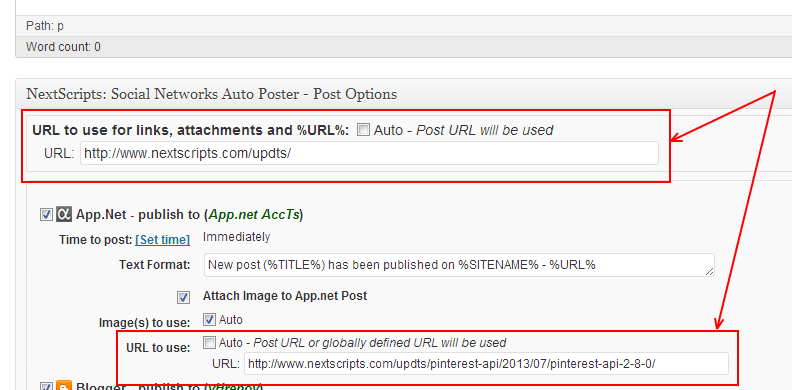 3. We set a separate blog and social networks accounts for API updates announcements.
You can always see the latest release news here: http://www.nextscripts.com/updts/
Follow any of our special accounts to stay in touch with API releases, news and updates:
Twitter: https://twitter.com/NextScripts
Facebook: http://www.facebook.com/nextscripts
Google+: https://plus.google.com/u/0/114111009058659350987/posts
RSS: http://www.nextscripts.com/updts/feed/
4. One more thing. Pinterest is rolling out new interface to everyone. Old interface become obsolete and unstable. Starting with API 2.8.0 we are no longer support old Pinterest interface. Please login to your Pinterest account and accept new changes, otherwise you will be getting 502 errors.
Comments
Trackbacks
About post
6
0
While I'm it must be a useful new feature for 'share some different URL with autoposts', I'm just not seeing a user case for it.
Could anyone share why this might be useful, to tweak my brain into thought?
Thanks

1. Someone has a main blog on blogpost. He setup Wordpress and now he writes the posts there and autoposting them to blogpost but he wants all links from Facebook, G+, Twitter, etc.. point to his blogspot website.

2. Someone importing RSS feeds to the blog and he wants links to point to the original pages from RSS.

3. Someone post a youtube video and he wants all links from Facebook, G+, Twitter, etc.. to point to the youtube page.

What ever happened to Beta 5?
Been waiting to update b4 since this announcement.

Hi,
It would be really nice to get some form of update on these beta releases since the tickets I log don't seem to get any feedback and I've posted a number of times to discover why beta 5 has been delayed by (so far) 2 week after the announced post date.

Beta 4 has issues (at least for me) of mass autoposting which I've logged with no reply from you guys. Wondering .....

Just some informed update would be great so people know what bugs have been squashed, what's being worked on and some idea of the state of the nation.

Different URL with autoposts is an awesome feature! Thanks

Hello.

I am interested in the v3 Beta5.

I am a Beta tester for 3 other software companies and can run the software through it's paces to find any issues.

I have been a web and blog developer foe many years, as well as, an instructor at a local college in many areas of computers, hardware, web design, etc.

I currently own, maintain, and run over 50 blogs and websites along with others from clients.

Thanks for your consideration.

- Carlos
P.S. I requested the Beat on another portion of your site as well.