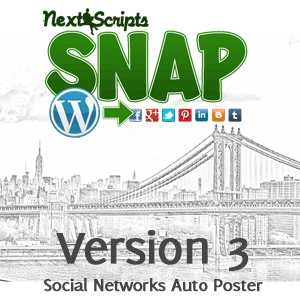 [Version 3] New Features
Schedule auto-posts for the specific time
You can set a specific time when the post will go to the configured social network. This feature expands the existing "delayed postings" functionality.

Please see more info here: Schedule auto-posts for the specific time
Auto-repost existing and already posted posts based on some rules (one-by-one, random, from specific days, etc..)
This is actually two features in one.
1. You can use it to import all your existing posts one by one on specific schedule.
2. You can use it to recycle your old posts by reposting them (randomly or one by one) to your social accounts.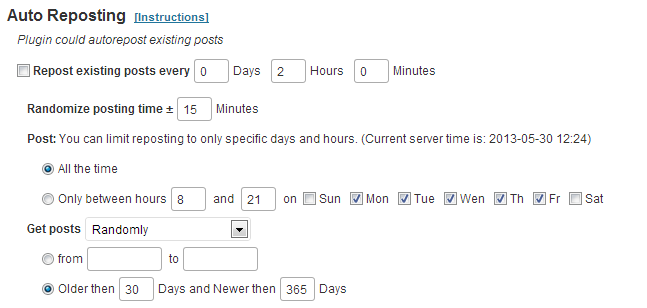 Please see more info and instructions here: Old Posts Auto-Reposting
Add auto-posts to the query that will be posted according to some specified rules (like "two posts per hour")
This will be useful if you import RSS or other feeds to your site. Your posts are imported all at once, but will go social networks one by one with specified intervals.
Select what image to use for "Image" and "Attachment" post types if post has several images
You can select what image to use for autoposting if your post has several.
Short video demo of auto-posting to Google+ with selected images. Video shows that image selection is working for both "Image Posts" and for thumbnails for "Text Posts with "attached" blogpost"
New Networks
App.net, Reddit and deviantart.com will be added.
Demos:
https://alpha.app.net/nextscripts
http://www.reddit.com/r/NextScripts/
http://nextscripts.deviantart.com/journal/
Release Date
Version 3 will be released once we finish beta testing and work out all bugs.
Beta number 4 will be sent out next week. We will be taking more people for it. If you recently requested to become a beta tester, you should get it. If not you can still request it here: http://www.nextscripts.com/version-3-beta/
Comments
Trackbacks
About post
17
0
On the auto-reposting, does that mean I can pluck out a random post from all my previously published posts and tweet one every 2 hours?
Because if it does, that allows me to get rid of a semi-problematic plugin called Tweetify and makes me a very happy camper to now use a reliable Pro plugin.

Love to hear an affirmative :)

Yes, that is exactly what it means.

Cool cool!. I think this will be a good edition to the plugin.

Sounds Great... Can't wait to try Beta 4.

This covers universal auto-posting (reposting random posts at regular intervals). Will the plugin allow for specific auto-posting? For instance, I would want to auto-post a lot of my content every six months, indefinately (ie a business teaching), but some of the content I wouldn't want to ever be reposted (ie a beta announcement).

Can you pick-and-choose which posts are auto-posted on a recurring basis?

Yes, of course, each post can be included/excluded to/from auto-reposting.

Nice! I can't wait for v 3. I then get to get rid of tweet old posts which has been giving me a lot of trouble..Will the tweet older posts at random be aviliable in the free version as eell? I love the plugin.

It'd be nice if i could limit somehow the number of posts on a hourly or daily base. This would avoid a ban on certain Social sites.

Did beta 4 go out? I'm on the list but haven't heard any news. Just wanted to make sure I haven't missed anything!

Same here. I am also on the list but haven't heard about the new beta. Would really love to test this.

I would love to see a random option on reposting to places such as wordpress \ blogspot, so that when selected there is a percentage change or even 50:50 chance that it will post.

So say you have 20 wordpress blogs, each post you do might randomly only post to 10.

I would love to see more forum auto posting support such as phpBB as this is one of the most popular free forum scripts around. It would save me a lot of time if this functionality were to be implemented.

I would love to see proxy rotation support

Please allow auto-reposting for pages as well as posts.
I'm trying to use this with woocommerce (which uses a custom post type which I think is a page). I'd like to set it to auto-repost all products (limited to one per day).

Plugin can autopost pages and custom post types since version 2.5.3 [01/15/2013]

Any estimate on when this finished version will be out? Love you plugin!

It will be released once we fix all bugs. We are pretty close to it.
| | |
| --- | --- |
| posted on | May 30, 2013 |
| in | Development, News, Scripts, Web Development |
| tagged | app.net, beta, development, deviantart, Reddit, Snap, V3, Wordpress |