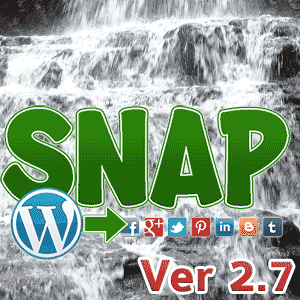 New Release: Version 2.7.4
The new version 2.7.4 has been released.
It contain very important fix resolving the "Duplicate Posts" problem. Please install this upgrade if you are getting duplicates or if you missing some posts.
Release also adds support for use of featured images from Yet Another Photoblog (YAPB) plugin. Several other bugs have been fixed as well.
Full list of changes.
= 2.7.4 [03/12/2013] =
* New – Support for images from Yet Another Photoblog(YAPB) Plugin.
* Improvement – Pinterest will recognize entered price.
* Improvement – VK – video attachments. (Pro Only)
* Improvement/Bug Fix – Changed/Improved the way of finding images in posts
* Improvement/Bug Fix – Title template for LinkedIn Groups
* Improvement/Bug Fix – Perfomance and Duplicate handling improvements
* Bug Fix – Duplicate posts issue.
* Bug Fix – Sometimes "Individual Category Selection" checkboxes were ignored
* Bug Fix – Broken VK Image posts.
* Bug Fix – Twitter Error – in_array() expects parameter 2 to be array
= 2.7.3 [03/06/2013] =
* New – New network "YouTube" (Comes with Google+ API Only)
* Improvement/Bug Fix – Better Duplicate handling.
* Bug Fix – vk.com "Access Denied" errors
* Bug Fix – Blogger removing some letters from the posts
* Bug Fix – %HTAGS% tag was not working for some networks
Comments
Trackbacks
About post
6
0
Seems to be a very valuable plugin to have... Question: If I want it work with another post taxonomy, will it work for that? (classifieds taxonomy)
and if I update a post... will it be submitted to the social networks?

Yes, plugin does support custom post types. You can turn it on/off in the settings tab.

Thanks for the answer. Just awesome it support custom post types.
If I install the plugin on a blog that has already posts... can this plugin also publish my old content (if I update the post for example), or does it only work for completely new posts.

You can go to the post edit and there are "Repost" buttons.

I created custom taxonomy for post and named it "Location". Is it possible to autopost based on selected location? We have multiple facebook page/group and we want specific post to auto published to specific page/group. Example, Blog post Category is News, Location is New Jersey. I want that post to be auto publish to a Facebook group or page facebook.com/ourpage-nj/.

It's not possible to autoselect networks based on custom fields. You can do it based only on categories. Then you will need to manually select the network.