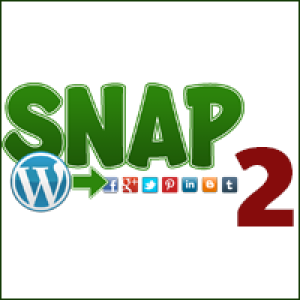 New Release: Version 2.4.8
The new version 2.4.8 has been released. It has some bug fixes for Pinterest, StumbleUpon and Twitter
= 2.4.8 =
* New/Improvement – external jQuery reference removed.
* Bug fix – Pinterest board selection fix.
* Bug fix – StumbleUpon connection fix.
* Bug fix – Twitter %TAGS% and %CATS% for non English characters
* Bug fix – Twitter %TAGS% and %CATS% were not found in the text sometimes.
* Bug fix – WordPress better handling of connection errors.
* Bug fix – Post status saving.
= 2.4.7 =
* New/Improvement – Ability to change format before reposting when you edit post.
* Bug fix – Critical Blogger "Function not found" fix.
* Bug fix – Escaped quotes in Message Format.
You can download it from NextScripts or directly from WordPress.org
Comments
Trackbacks
About post
2
0
It's super misleading of you to include Google+ in your supported networks list, then only after install, redirect users to purchase a separate $49 plugin to make it work. I could use SNAP just for Twitter but because of this I'm not going to. Bad developer, no biscuit for you.

I don't see anything misleading. You don't need separate plugin for Google+ support. Free plugin has all necessary code to support Google+. Plugin by itself can't post to Social Networks. It requires APIs in order to do that. Most of the networks such as Facebook, Twitter, etc.. have free APIs available for anyone to use. API for Google+ and Pinterest are not free. There is nothing we can do about that. As soon as Google and/or Pinterest release free API we will switch to that. As of now we have to rely on third party APIs for those networks.

Also plugin description mentions several times that Google+ and Pinterest supported only with "with third party API library"