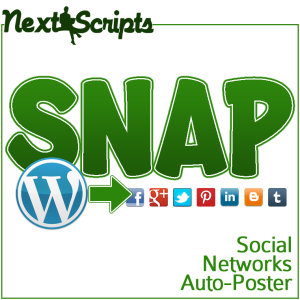 New Release: SNAP for WordPress Version 3.1.2
SNAP for WordPress Version 3.1.2 has been released. This version fixes several bugs.
= 3.1.2 [01/15/2013] =
* [Critical] Bug Fix – [ERROR] (#100) actions should be a JSON-encoded dictionary with 'name' and 'link' keys
* Improvement/Bug Fix – Plugin will import all comments from Facebook posts, not just the first 100.
* Bug Fix – Plugin were re-posting the same "Sticky" post in some configurations.
You can install it directly from your WP Admin panel, download it from NextScripts or from WordPress.org
---
Comments
Trackbacks
About post
4
0
if you possible please develop custom image for facebook instead of using featured image
its my sugession

Is it plan to import User Facebook avatars too within the comments themselves instead of Gravatars or a Default image?

Plugin already does that.